Overview
BUNDLE includes: SnapShell R2 Drivers License Scanner innovate camera scanner with no moving parts with IDScan.OCR software. IDScan® for driver license (scan to file). The scanner connects to the computer's USB port thus requiring no external power supply, and has a small footprint.
The SnapShell uses a 3 mega-pixel camera built into its base to "snap" high quality digital images of ID cards (up to 600 dpi), populating the card's text into appropriate fields within 2-3 seconds. The easy-to-use SnapShell ID scanner uses a USB 2.0 connection and features no moving parts while requiring no calibration, making it a low maintenance solution that allows users to simply place their card face down on the window and allow the system to do the rest.
FEATURES:

Camera Type: CMOS 3.2 Mega pixel, Color Depth: 30 bit RGB
Cutting-Edge Image Processing Solution
Extracts textual data from Driver's Licenses, 2D Barcodes, Medical Insurance Cards, and Business Cards
Captures images in less than 2 seconds.
Extracts face image, signature image, and relevant textual data from driver's licenses
Ultra Violet and Infrared authentication
Auto image capture upon card placement.
SDK (Software Development Kit) available for integration

BENEFITS:

Expedited customer registration process by auto data capture.
Helps detect fraudulent driver's licenses.
Reduced data input errors.
Save time and money.
High quality images.
Low Maintenance.
Green

TECHNICAL SPECIFICATIONS:

Hardware Specifications
Interface: USB 2.0 Powered
Power Supply: USB, no external power needed
Capture trigger: Automatic card placement detection and/or front panel button
Dimensions: Height: 3.6" Width: 4.5" Depth: 3.6"
Weight: .24 KG
Maximum Document Size: 3.6" x 2.2"
Capture Speed (color): 1 sec at 300dpi, 2 sec at 600 dpi
Light Source: White, Infra-Red, Ultra Violet
Image format output: JPEG, BMP, PHG, TIFF, GIF
Resolution: 600dpi true color
Anti-Scratch glass
No moving parts

Minimum PC specifications
Single Core 1.7 GHz, 1 GB RAM, 72 MB hard drive space for the software
Supported operating Systems: Windows XP, Windows Vista, Windows 7, Windows 8, and Windows 10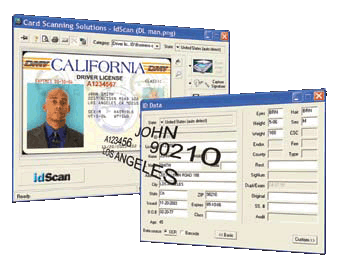 SOFTWARE: IDScan.OCR
FEATURES:
Choice of extracting the card's image and text, or just the card's image.*
Data is imported to appropriate text fields.
Ability to read driver's licenses from all 50 states and over 80 countries around the world.
Automatic card detection – just insert a card to begin the scanning process.
Image auto alignment – automatically corrects incorrect card insertion.
Integrate with 3rd party applications. CSSN has an SDK kit available for integrators.

BENEFITS:
Increased efficiency, reduced human error.
Expedited customer processing.
Electronically store the full driver's license, signature, and/or cropped image for future reference.

Idscan OCR for Driver's License includes as a bonus additional 3 modules:
ID card bar code (1D&2D pdf417)
Capable of reading 1D, 2D and PDF417 barcodes from driving licenses to social services and national ID cards.
Checks
Scan full text of check information as well as the MICR line information and provides the user with an image of the check and the relevant text information.
Business cards
Scan business cards and provide the user with an image of the card and the relevant text information.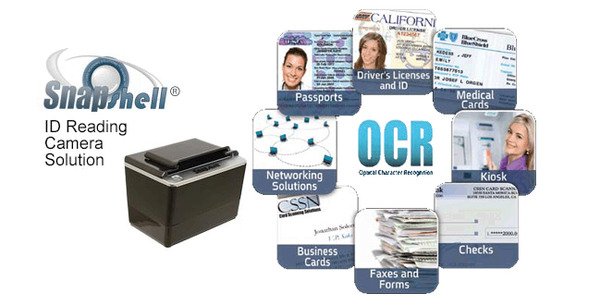 HARDWARE: SnapShell R2